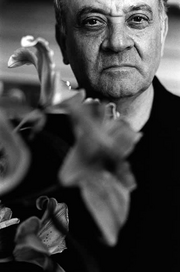 Angelo Badalamenti (born March 22, 1937) is an American
composer
, known for his movie soundtrack work for director
David Lynch
, notably
Blue Velvet
, the
Twin Peaks
saga (1990–1992) and
Mulholland Drive
. He received the
Lifetime Achievement Award
at the
World Soundtrack Awards
in 2008.
[1]
Early life
Badalamenti was born in Brooklyn, New York to an Italian family; his mother was from Sicily and his father was a fish market owner.[2] Badalamenti spent much of his childhood listening to opera and classical music. He studied at the Eastman School of Music and at Manhattan School of Music where he earned a master's degree in music.
Badalamenti scored films such as Gordon's War, and Law and Disorder, but his big break came when he was brought in to be Isabella Rossellini's singing coach for the song "Blue Velvet" in David Lynch's classic film Blue Velvet. Rossellini was supposed to sing "Song to the Siren," a song by Tim Buckley, but Lynch was unable to secure the rights to use it. Badalamenti and Lynch collaborated to write "Mysteries of Love", using lyrics Lynch wrote and Badalamenti's music. Lynch asked Badalamenti to appear in the film as the piano player in the club where Rossellini's character performs. This film would be the first of many projects they would work on together.
After scoring a variety of mainstream films, including A Nightmare on Elm Street 3: Dream Warriors and National Lampoon's Christmas Vacation, he scored Lynch's cult television show, Twin Peaks which featured the vocals of Julee Cruise. Many of the songs from the series were released on Cruise's album Floating into the Night. From the soundtrack of the television series, he was awarded the Grammy Award for Best Pop Instrumental Performance for the "Twin Peaks Theme".
Other Lynch projects he worked on include the movies Wild at Heart, Twin Peaks: Fire Walk with Me, Lost Highway, and Mulholland Drive (where he has a small role as a gangster with a finicky taste for espresso), as well as the television shows On the Air and Hotel Room. Other projects he has worked in include the television film Witch Hunt, and the films Naked in New York, The City of Lost Children, A Very Long Engagement, The Wicker Man, Dark Water and Secretary. He has also worked on the soundtrack for the video game Fahrenheit (known as Indigo Prophecy in North America). His work on Fahrenheit has also been critically acclaimed, with the game breaking new ground, and being described as an 'interactive paranormal thriller'. Lately, he has been composer for director Paul Schrader on such films including Auto Focus, The Comfort of Strangers and Dominion: Prequel to the Exorcist. In 1998, Badalamenti recorded "A Foggy Day (in London Town)" with artist David Bowie for the Red Hot Organization's compilation album Red Hot + Rhapsody a tribute to George Gershwin which raised money for various charities devoted to increasing AIDS awareness and fighting the disease. In 2005, he composed the themes for the movie Napola (Before the Fall) which were then adapted for the score by Normand Corbeil. In 2008, he directed the soundtrack of The Edge Of Love, with Siouxsie, Patrick Wolf and Beth Rowley on vocals.
Collaborations
In 1966, Badalamenti co-wrote a song ("Visa to the Stars") on Perrey and Kingsley's album The In Sound from Way Out!. He also arranged and produced Perrey's two solo albums for Vanguard Records, although he was known at the time as "Andy Badale." In 1987, he lent his services to British synth-pop duo Pet Shop Boys, arranging the orchestration on the dreamy and melancholic track "It Couldn't Happen Here". The recording foreshadows "Laura Palmer's Theme" from Twin Peaks - produced in 1989 and released in 1990. Badalamenti also arranged the strings on two tracks on the Pet Shop Boys' acclaimed Behaviour album in 1990.
In 1993, Badalamenti collaborated with thrash metal band Anthrax on the Twin Peaks-inspired track "Black Lodge" from the Sound of White Noise album. In 1995, he composed, orchestrated and produced Marianne Faithfull's album, titled A Secret Life. In 1996, Badalamenti teamed up with Tim Booth of the British rock band James. As Booth and the Bad Angel, they released an eponymous album on the Mercury label. In 2000, he worked with Orbital on the "Beached" single for the movie The Beach. In 2004, he composed the Evilenko soundtrack working with Dolores O'Riordan, who sang the main theme and with whom he is still collaborating. A new song by the two, "The Butterfly", is likely to be included in a yet to be announced movie.
Quotes
"My (musical) world is a little bit dark... a little bit off-center. I think of it as tragically beautiful. That is how I would describe what I love best: tragically beautiful."