April 4
is the 94th day of the year (95th in leap years) in the Gregorian calendar.
1968 – Dale Cooper records a tape following the assassination of Martin Luther King, Jr.. He says that he was in the car with his father when they heard the announcement over the radio, prompting Mr. Cooper to say "shit" in front of his son for the first time. Dale states his confidence that the FBI will catch King's assassin.[1]
1974 – Cooper reflects that his life seems to be pointing toward the existence of both good and evil.[1]
1984[2] – Cooper reunites with Windom Earle, who says he has followed Dale's career since they first met at the job fair.[1]
Behind the scenes
Edit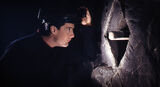 References
Edit
External links
Edit