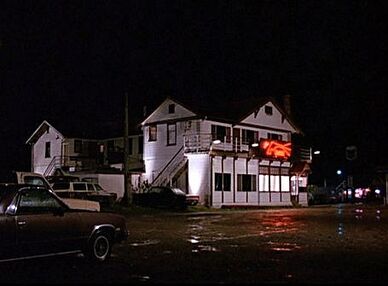 The Bang Bang Bar, mostly referred to as "the Roadhouse" is a popular tavern in the southern part of Twin Peaks, Washington, not far from the "Welcome to Twin Peaks" sign. It has been owned by the Renault family since the 1950s.[1] It is liked by bikers, loving couples, and lovers of good music. There is a large, animated neon sign by the bar entrance that reads "The Bang Bang Bar."
References
Edit
Ad blocker interference detected!
Wikia is a free-to-use site that makes money from advertising. We have a modified experience for viewers using ad blockers

Wikia is not accessible if you've made further modifications. Remove the custom ad blocker rule(s) and the page will load as expected.