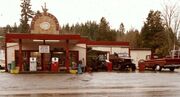 Big Ed's Gas Farm was the local gas station in Twin Peaks, Washington. Originally named Ed's Gas Farm and owned by Ed Hurley, Sr., It was later passed down to Hurley's son, "Big" Ed Hurley, who renamed it to be in line with his own nickname.[1] In 1989, Hurley lived with his wife, Nadine, in a house adjacent to the gas station.[2]
References
Edit
Ad blocker interference detected!
Wikia is a free-to-use site that makes money from advertising. We have a modified experience for viewers using ad blockers

Wikia is not accessible if you've made further modifications. Remove the custom ad blocker rule(s) and the page will load as expected.