Richard "Dick" Tremayne is an Englishman of the older mold, and has a keen interest in self-preservation and his appearance, particularly his clothing.
Biography
Edit
Twin Peaks (1990-1991)Edit
Episode 10
Edit
Dick goes to the sheriff's station in Twin Peaks. He goes to Lucy, as they have planned a lunch date. Deputy Hawk breaks his cigarette and refuses to acknowledge his introduction, then Dick and Lucy go to lunch at the Double R Diner.
At the diner, Dick talks a lot about his work at the department store and the way he uses his fork. She then asks him why he has not called her in weeks and he makes the excuse that he lost her number. He explains a way he can make it up to her before she suggests a maternity dress, for she is pregnant.
Episode 11
Edit
Dick goes to the sheriff's station to speak with Lucy, saying that he has been miserable thinking about his own behavior. He gives her $650 for an abortion, which upsets her. She kicks him out of the station and wishes to never speak to him again.
Episode 16
Edit
He goes to the sheriff's station and is taken by Lucy to a room with Andy Brennan, also possibly the father of her child. She tells them that she wants full cooperation with both of them throughout her pregnancy.
Episode 17
Edit
He announces to Lucy that he was quit smoking and is now completely open to the idea of fatherhood. Andy comes and says that they should not fight. Dick shakes hands with Andy.
Episode 18
Edit
Dick goes to the sheriff's station with Nicky, who he has temporarily adopted from the Happy Helping Hand program. He wishes to take Lucy for a malted with him and Nicky, but Andy tells him that she is at the Great Northern Hotel helping prepare for the wedding of Dougie Milford and Lana Budding. Instead, Andy offers to go with them.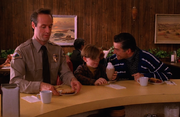 They go to the diner, where Dick and Andy order pie and Nicky gets the malted he was promised. However, Nicky blows whipped cream off of the top into Dick's face. When Andy stands to get a napkin for Dick, Nicky spins his stool, causing him to fall which he sits back down, much to Dick's amusement.
Episode 19
Edit
He enters the sheriff's station and is introduced to Judy Swain, Nicky's case manager from the Happy Helping Hands organization. She tells he and Andy that Nicky may perhaps carry trauma by various events in his life such as the death of his parents under mysterious circumstances.
As Dick tries to figure out what is wrong with one of the wheels on his car, Nicky tampers with the car, disturbing Dick's work. After Nicky turns on the windshield sprayers, Dick tells him to get out of the car. After Nicky walks away, the wheel falls off the car, frightening him.
Dick goes to the sheriff's station to speak with Andy, telling him that Nicky is the devil and may have killed his parents. He spots Lana Milford and is taken by her charms enough to quote Romeo and Juliet.
Episode 20
Edit
Dick meets Andy at the station, the latter being late due to getting a cat out of a tree. Dick reveals to him that Nicky's records are sealed, but has a plan to retrieve them.
They break into the Happy Helping Hand's files and Dick finds the one belonging to Nicky. A couple identifying themselves as the Brunstons come in, eager to see a little boy named Donnie.
Episode 21
Edit
Doctor Hayward forces he and Andy together for a meeting to dismiss their accusations about Nicky murdering his parents. Hayward tells them that Nicky was conceived by a rape, his mother died in childbirth, and his adoptive parents were killed in a car accident.
Episode 24
Edit
Dick admires two women at the Great Northern, until Audrey Horne approaches him, concerned about Tim Pinkle's presentation about the endangered pine weasel for the Stop Ghostwood campaign to take place that evening.
At the campaign meeting, Dick hosts the fashion show, in which Lucy and Andy are models. After the fashion show, he calls out Pinkle, who introduces the audience to the pine weasel. Pinkle convinces Dick to give the weasel a kiss and it bites his nose. The weasel becomes loose and causes a panic among the crowd.
Episode 26
Edit
With his nose bandaged, Dick approaches Benjamin Horne, concerned about the upcoming wine-tasting event he is hosting, as Audrey is not present. Horne tells him to get the concierge's help.
He later hosts the wine-tasting event, where he displays his expertise on fine wine.
Episode 28
Edit
Alongside fellow judges of the contest, Norma Jennings and Mayor Milford, he observes Pinkle teach choreography to the contestants. Norma turns away his attention to ask what qualities they should be looking for in Miss Twin Peaks and he suggests poise, sophistication, and breeding. Norma leaves and when the contestants take a break, Lana approaches him, requesting to help her "find something in the storage room."
After the speeches at the contest, Lucy pulls Dick and Andy aside to announce to them that she has chosen Andy to be the father of her baby. He congratulates Andy and goes to cast his vote for the winner.
He votes for Annie Blackburn, having been moved by her speech. She wins and chaos ensues.
Behind the scenes
Edit
Dick was played by Ian Buchanan, who later starred as Lester Guy in Mark Frost and David Lynch's short-lived television series On the Air, alongside Miguel Ferrer and David L. Lander.
Ad blocker interference detected!
Wikia is a free-to-use site that makes money from advertising. We have a modified experience for viewers using ad blockers

Wikia is not accessible if you've made further modifications. Remove the custom ad blocker rule(s) and the page will load as expected.