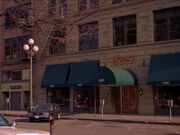 Horne's Department Store (formerly Horne's General Store) was the department store in Twin Peaks, owned by Benjamin Horne.
The store had its beginnings in 1905 when Orville Horne opened Horne's General Store and it began to flourish after its competitor, Thor's Trading Post mysteriously burned down.[1][2] By the 1920s, it had evolved into Horne's Department Store.[2]
By the 1980s, Benjamin Horne had inherited the business and it was managed by Emory Battis until his death in 1989. Battis would recruit girls working in the perfume department to also work at One Eyed Jack's, a brothel and casino in Canada, also owned by Horne. The girls he recruited included Ronette Pulaski and Laura Palmer.[3]
Benjamin Horne's daughter, Audrey Horne briefly worked in the store's perfume department [3] and Dick Tremayne worked in men's fashion.[4]
References
Edit
Ad blocker interference detected!
Wikia is a free-to-use site that makes money from advertising. We have a modified experience for viewers using ad blockers

Wikia is not accessible if you've made further modifications. Remove the custom ad blocker rule(s) and the page will load as expected.