James Hurley
Talk

0
158pages on
this wiki
James Hurley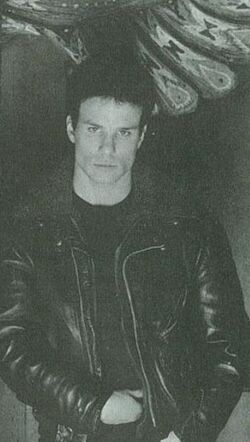 Portrayed by
{{{AltCasting}}}
Episode count
{{{Count}}}
Date of death
{{{DateDeath}}}
Cause of death
{{{Death}}}
[[:Category:{{{Images}}}|Images]]
James Hurley, played by James Marshall, lives with his uncle Ed and his aunt Nadine due to his troubled family situation: his father (probably Ed's brother), a musician, left mother and child behind when James was very young, while his mother, a writer, is an alcoholic who frequently sleeps with total strangers.
James is a keen motorcycle rider. He is only quiet on the outside. James frequently has problems with women. He was Laura Palmer's secret boyfriend. After her death, he falls in love with his and Laura's best friend Donna Hayward. Later he is also attracted to Laura's look-alike cousin Maddy Ferguson, leading to disputes with Donna. After Maddy's death, he leaves Twin Peaks and gets into trouble with Evelyn Marsh.
Bobby Briggs, Laura's boyfriend, resents James because of their relationship.