July 30
is the 211th day of the year (212th in leap years) in the Gregorian calendar.
1969 –

[edit]

8:00 a.m. – Dale Cooper decides to not take the bus back home from a Boy Scouts jamboree and describes the defeat of the "Nazis" from Pittsburgh.[2]
10:00 a.m. – After walking six miles, Cooper expects it to beging raining.[2]
12:00 p.m. – It begins raining as Cooper continues walking.[2]
2:30 p.m. – At the Post and Beam restaurant, Cooper eats cherry pie and has his very first cup of coffee.[2]
4:00 p.m. – Cooper joins young couple Star and April, who are on their way to Washington, D.C. to chain themselves to the doors of the Pentagon.[2]
6:00 p.m. – Cooper drives as Star and April make love in the back of their van.[2]
11:00 p.m. – After cutting his foot while trying to join April in chasing fireflies, he finds a bottle of raspberry brandy and decides to drink it.[2]
Behind the scenes
Edit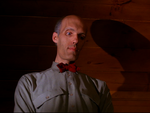 References
Edit
External links
Edit
Ad blocker interference detected!
Wikia is a free-to-use site that makes money from advertising. We have a modified experience for viewers using ad blockers

Wikia is not accessible if you've made further modifications. Remove the custom ad blocker rule(s) and the page will load as expected.