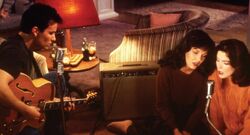 "That was really good. Let's try it again."

―

James Hurley
"Just You" was a song by James Hurley.
James, Maddy Ferguson, and Donna Hayward recorded the song at the Hayward home in 1989. Donna noticed James and Maddy looking at each other and ran out of the room, upset. A phone call came for Donna from Harold Smith as Maddy had a vision of BOB coming at her over the couch, causing her to scream. James and Donna went to her, but there was nothing there.[1]
In late 2016, James performed the song with two backup singers at the Roadhouse, visibly moving Renee.[2]
Behind the scenes
Edit
The song was written by David Lynch and performed by James Marshall, Lara Flynn Boyle, and Sheryl Lee. It originally appeared in Episode 9 of Twin Peaks and later in Part 13 of the 2017 series.
It was released on the 2007 album, Twin Peaks: Season Two Music and More.
Just you
And I
Just you
And I
Together
Forever
In love

Just you (just you)
And I (and I)
Just you (Just you)
And I (and I)
Together
Forever
In love

In love
We go strolling together
In love
We go strolling forever
Oh oh oh

Just you (just you)
And I (and I)
Just you (just you)
And I (and I)
Together
Forever
In love

Just you
And I
Just you
And I

Appearances
Edit
References
Edit
External links
Edit
Other Appearances
Edit
Recreated in the end of the song Cry Gone Gin by The Potluck Communists