This article/section is a stub
This article/section is short and/or lacking information. You can help the Twin Peaks Wiki by expanding it.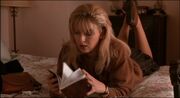 Laura Palmer's secret diary held revealing secrets about her abuse from BOB and other town secrets.
She gave it to Harold Smith before she died.
Behind the scenes
Edit
The diary was released in 1990 as the novel The Secret Diary of Laura Palmer, written by Jennifer Lynch, daughter of Twin Peaks co-creator, David Lynch.
Ad blocker interference detected!
Wikia is a free-to-use site that makes money from advertising. We have a modified experience for viewers using ad blockers

Wikia is not accessible if you've made further modifications. Remove the custom ad blocker rule(s) and the page will load as expected.