The following articles are about the characters of Twin Peaks.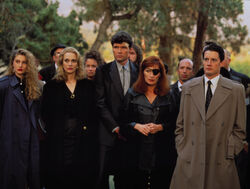 Overview
Grouping
Name
Description
Played by
The FBI/DEA
Special Agent Dale Cooper
Investigates the murder of Laura Palmer using unorthodox methods, falls in love with Twin Peaks and all its rural life, fascinated with the paranormal. He practices Buddhism.
Kyle MacLachlan
Albert Rosenfield
Abrasive forensics expert, whose façade hides a spiritual nature
Miguel Ferrer
Chester Desmond
Investigates murder of Teresa Banks, mysteriously disappears
Chris Isaak
Sam Stanley
Forensics specialist, assists Desmond in the investigation of Teresa Banks' murder
Kiefer Sutherland
Phillip Jeffries
Long-lost FBI agent, who knows of the Lodges and their inhabitants
David Bowie
Roger Hardy
Agent working for Internal Affairs who temporarily suspends Cooper from the FBI.
Clarence Williams III
Gordon Cole
Stone-deaf Regional Bureau Chief, known to shout constantly
David Lynch
Dennis/Denise Bryson
Transgender DEA agent who investigates drug allegations against Dale Cooper
David Duchovny
Tamara Preston
Assigned by Cole to investigate a dossier concerning the town of Twin Peaks and determine who compiled it.
Annie Wersching
Sheriff's Department
Sheriff Harry S. Truman
Lover of Josie Packard and friend of Cooper. Helps him solve the Laura Palmer case.
Michael Ontkean
Deputy Andy Brennan
Dorky deputy, lover of Lucy
Harry Goaz
Deputy Hawk, Tommy Hill
Native American, expert tracker
Michael Horse
Lucy Moran
Ditzy receptionist, on and off lover of Deputy Andy Brennan
Kimmy Robertson
Cappy
Rarely-seen young, male assistant at the police station, possibly another deputy
Ron Kirk
Franklin Truman
Former sheriff of Twin Peaks. Older brother of Harry S. Truman.
Robert Forster (rumored)
Palmer family
Laura Palmer
Murder victim and the center of the story, linked to almost everyone in Twin Peaks
Sheryl Lee
Leland Palmer
Laura's father, known for his compulsive singing and dancing, lawyer
Ray Wise
Sarah Palmer
Laura's psychic mother
Grace Zabriskie
Maddy Ferguson
Laura's identical-looking cousin
Sheryl Lee
Hayward family
Doctor William Hayward
Doctor of Twin Peaks, assists on the autopsy of Laura Palmer
Warren Frost
Eileen Hayward
Doctor Hayward's wheelchair-using wife
Mary Jo Deschanel
Donna Hayward
Laura's best friend, lover of James Hurley
Lara Flynn Boyle/Moira Kelly
Harriet Hayward
Donna's younger sister
Jessica Wallenfels
Gersten Hayward
Donna's youngest sister
Alicia Witt
Horne family
Benjamin Horne
Wealthy businessman, owns Great Northern Hotel, Horne's Department Store and a brothel on the Canadian border
Richard Beymer
Jerry Horne
Ben's playboy brother and business partner
David Patrick Kelly
Sylvia Horne
Ben's constantly-angry wife
Jan D'Arcy
Audrey Horne
Ben's sultry teenage daughter
Sherilyn Fenn
Johnny Horne
Ben's mentally handicapped son, tutored by Laura
Robert Davenport/ Robert Bauer
Packard/Martell Family
Josie Packard
Widowed sawmill owner with a dark past, lover of Sheriff Truman, tutored by Laura
Joan Chen
Andrew Packard
Late owner of the Packard Sawmill and husband of Josie
Dan O'Herlihy
Catherine Martell
Sister of Andrew, schemes with secret lover Ben Horne to burn down the sawmill
Piper Laurie
Pete Martell
Long-suffering husband of Catherine, fishing and chess enthusiast, found Laura's body
Jack Nance
Briggs family
Major Garland Briggs
Intelligent and gifted Air Force officer involved in Project Blue Book, deep-space monitoring, and the woods surrounding Twin Peaks
Don S. Davis
Betty Briggs
Unassuming, loving wife and mother
Charlotte Stewart
Bobby Briggs
Rebellious teenager, captain of the football team, boyfriend of Laura Palmer, secret lover of Shelly Johnson
Dana Ashbrook
Hurley/Jennings triangle
Big Ed Hurley
Owner of Big Ed's Gas Farm, secret lover of Norma Jennings
Everett McGill
Nadine Hurley
Ed's one-eyed, super-strong, curtain drape-obsessed wife
Wendy Robie
James Hurley
Ed's nephew, secret lover of Laura Palmer, later lover of Donna Hayward
James Marshall
Norma Jennings
Double-R Diner owner, lover of Big Ed Hurley, organizer of Meals on Wheels with Laura
Peggy Lipton
Hank Jennings
Norma's husband, criminal on parole, conspirator with Josie Packard
Chris Mulkey
Vivian Niles
Norma's mother, doesn't get along with Norma
Jane Greer
Ernie Niles
Vivian's new husband, did time with Hank
James Booth
Annie Blackburn
Younger sister of Norma, an ex-nun with a troubled past
Heather Graham
The Johnsons
Leo Johnson
Brutish trucker and drug-runner, had a sexual relationship with Laura Palmer
Eric Da Re
Shelly Johnson
Abused young wife of Leo, waitress at Norma's diner, secret lover of Bobby Briggs
Mädchen Amick
One-Eyed Jack's/ Renault family
Jacques Renault
Canadian croupier, drug-runner, and bartender at the Roadhouse. Had sexual relationship with Laura Palmer
Walter Olkewicz
Bernard Renault
Youngest Renault brother, mules drugs over the border
Clay Wilcox
Jean Renault
Oldest and most dangerous Renault brother, veteran criminal, insurance agent.
Michael Parks
Blackie O'Reilly
The madame of One-Eyed Jack's
Victoria Catlin
Nancy O'Reilly
Blackie's sister, lover of Jean Renault
Galyn Gorg
Other locals
Ronette Pulaski
Former employee of Horne's Department Store and One-Eyed Jack's, was with Laura the night she died
Phoebe Augustine
Dr. Lawrence Jacoby
Eccentric former psychiatrist of Laura with an obsession for Hawaii
Russ Tamblyn
Robert Jacoby
Longtime editor of the Twin Peaks Gazette until his death in 1986.
Russ Tamblyn
Mike Nelson
Bobby's best friend, high school wrestling champ, ex-boyfriend of Donna.
Gary Hershberger
Margaret Lanterman
a.k.a. "The Log Lady")
Mystic, widow who divines through a log she carries with her everywhere
Catherine E. Coulson
Harold Smith
Agoraphobic horticulturist, Laura's Meals on Wheels friend
Lenny Von Dohlen
Emory Battis
Store manager of Horne's Department Store, recruits girls from the perfume counter to work at One-Eyed Jack's
Dan Amendola
Dick Tremayne
Pretentious employee of Men's Department at Horne's, ex-lover of Lucy
Ian Buchanan
The Elderly Room Service Waiter
Elderly bellhop at the Great Northern with a link to the Lodges and the Giant in particular
Hank Worden
Randy St. Croix
Employee of the Great Northern hotel
Ron Blair
Roadhouse Singer
Angelic singer at the Roadhouse, known for her dream-like voice
Julee Cruise
Mayor Dwayne Milford
Long-time mayor of Twin Peaks, has an ongoing feud with his brother Dougie
John Boylan
Dougie Milford
Air Force officer, assigned specifically to UFO investigations. Later publisher of the Twin Peaks Gazette local newspaper, known to marry often
Tony Jay
Lana Budding Milford
Seductive fiancée of Dwayne, and widow of Dougie, known to charm almost any man that's around her
Robyn Lively
Clinton Sternwood
The judge in Twin Peaks
Royal Dano
Sid
Sternwood's law clerk
Claire Stansfield
Outsiders
Evelyn Marsh
Rich woman who James Hurley runs into, and who is beaten by her husband
Annette McCarthy
Jeffrey Marsh
Evelyn's wife-beating husband
Malcolm Sloan
The Marsh family driver
Nicholas Love
Thomas Eckhardt
Former business partner of Andrew Packard, obsessively in love with Josie Packard
David Warner
Jones
Thomas Eckhardt's assistant
Brenda Strong
Teresa Banks
First victim, found almost exactly one year before the murder of Laura Palmer
Pamela Gidley
Windom Earle
Psychotic but brilliant ex-partner of Cooper, desires the powers of the Lodges
Kenneth Welsh
Preston King
Canadian police officer involved with Jean Renault's drug trafficking
Gavan O'Herlihy
John Justice Wheeler
Friend of Ben Horne and later falls in love with Audrey Horne
Billy Zane
Colonel Calvin Reilly
United States Air Force officer assigned to investigate the disappearance of Major Briggs.
Tony Burton
Lodge Inhabitants
The Man from Another Place
Enigmatic dwarf, inhabitant of the Red Room.
Michael J. Anderson
MIKE
Spirit, former associate and now opponent of BOB, inhabits shoe salesman Phillip Gerard, "The One-Armed Man"
Al Strobel
Killer BOB
Malevolent spirit, haunts the woods and inhabits humans, killer of Laura.
Frank Silva
The Giant
A supernatural giant who appears at key moments and provides Cooper with cryptic clues.
Carel Struycken
Mrs. Tremond/Chalfont
Link to the Lodges and intentions unclear
Frances Bay
Little Boy
Mrs Tremond/Chalfont's grandson, link to the Lodges and intentions unclear
Austin Jack Lynch/ Jonathan J. Leppell
Concepts
Creation of BOB
Frank Silva was a set decorator who worked on the pilot episode. One day, when he was moving furniture in Laura Palmer's bedroom, a woman remarked to Silva not to get locked in the (Laura Palmer's) room. The image of Silva trapped in the room sparked something in Lynch, who then asked Silva if he was an actor. Silva replied "Yes", and Lynch told him that he had a part in mind for him on the series. Silva accepted, and Lynch shot footage of him behind Laura's bed with no real idea of what he would do with it.
When Lynch shot the scene of Sarah Palmer's frightening vision, Silva's reflection was accidentally caught in the footage. Silva can be seen in the mirror behind Sarah Palmer's head. Lynch was made aware of this accident, but decided to keep Silva in the scene.
MIKE, the One-Armed Man
MIKE's appearance in the pilot episode was only originally intended to be a "kind of homage to The Fugitive. The only thing he was gonna do was be in this elevator and walk out." However, when Lynch wrote the "Fire walk with me" speech, he imagined MIKE saying it in the basement of the Twin Peaks hospital – a scene that would appear in an alternative version of the pilot episode, and surface later in Agent Cooper's dream sequence. MIKE's full name, Phillip Michael Gerard, is also a reference to Lieutenant Philip Gerard, a character in The Fugitive.
The Man from Another Place
Lynch met Michael J. Anderson in 1987. After seeing him in a short film, Lynch wanted to cast the actor in the title role in Ronnie Rocket, but that project failed to get made. While editing the alternate ending of the foreign version of the pilot episode, an idea occurred to Lynch on his way home one day: "I was leaning against a car — the front of me was leaning against this very warm car. My hands were on the roof and the metal was very hot. The Red Room scene leapt into my mind. 'Little Mike' was there, and he was speaking backwards... For the rest of the night I thought only about The Red Room."
Laura Palmer
To save on money, Lynch intended to cast a local girl from Seattle "just to play a dead girl". The local girl ended up being Sheryl Lee. "But no one — not Mark, me, anyone — had any idea that she could act, or that she was going to be so powerful just being dead." Indeed, the image of Lee wrapped in plastic became one of the show's most enduring and memorable images. And then, while Lynch shot the home movie that James takes of Donna and Laura, he realized that Lee had something special. "She did do another scene — the video with Donna on the picnic — and it was that scene that did it." As a result, Sheryl Lee became a semi-regular addition to the cast, appearing in flashbacks as Laura, and becoming a recurring character—Maddy, Laura's cousin who also becomes another victim of BOB.
Ad blocker interference detected!
Wikia is a free-to-use site that makes money from advertising. We have a modified experience for viewers using ad blockers

Wikia is not accessible if you've made further modifications. Remove the custom ad blocker rule(s) and the page will load as expected.