This article/section is a stub
This article/section is short and lacking information. You can help the Twin Peaks Wiki by expanding it.
This is an article about Bobby's friend. For the spirit/entity of the same name, see MIKE

Mike Nelson is close friends with Bobby Briggs and was the boyfriend of Donna Hayward. He was on both the high school football and wrestling teams. Extra-curricularly he dealt drugs with Bobby.
As Donna grew closer to James Hurley, she broke up with Mike. Mike initially didn't take the breakup well, but soon became involved with an amnesiac Nadine Hurley. Mike fell in love with Nadine and planned to marry her, but was heartbroken when she regained her memory and returned to her husband Ed.

Mike was illustrative of the theme of duality that pervaded Twin Peaks. He was, with Bobby, one of two duos in the series named "Mike" and "Bob," the other being Mike / Philip Gerard the one-armed man and Bob.
Biography
Edit
Twin Peaks (1990-1991)Edit
Mike is first seen in the locker room at Twin Peaks High School when Sarah Palmer calls, trying to find out where her daughter, Laura, is.
He later stands in a hallway as his best friend, Bobby Briggs, arrives.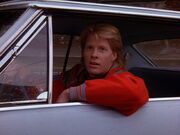 Later in the day, he goes to Ed Hurley's gas station, where his girlfriend, Donna Hayward is. He angrily says that he has been looking all over town for her, as he thinks she should be with him to support Bobby. This angers Hurley and Mike tells him to mind his own business. He commands Donna to go to the sheriff's station and he leaves.
He waits at the sheriff's station for Bobby after his questioning, but waits, as Donna has just been taken in. Bobby also says that they're going to beat up a biker with the initial 'J.' He then goes outside with him.
In the evening, he goes with Bobby to see Donna, who is not home despite the curfew. Her father requests him to help find her. Mike immediately suspects she has gone to the Roadhouse, so they head there and wait for her. When she arrives, he angrily grabs her, and is intervened by Ed as well as other bar patrons.
Having been arrested, they see James Hurley being taken to a cell and bark at him.
Episode 1
Edit
Mike sits in his cell with Bobby, saying Leo Johnson called, asking where half of the money Bobby owes him was. Bobby says it was in Laura's possession and that she was supposed to hand it over that day. They then argue over how they will get the $10,000 they owe. They watch as James is then escorted back to his cell by Deputy Hawk.
Later on, they sit in the interrogation room across from Sheriff Harry S. Truman when FBI Special Agent Dale Cooper comes in. Mike insists that their fight at the Roadhouse was purely self-defense, they are released. The special agent also tells them that if anything happens to James, they will be immediately considered suspects.
Mike drives with Bobby past the Hayward home and sees James' bike outside.
Episode 2
Edit
Mike and Bobby go to the woods to pick up the cocaine, left in a football by Leo. However, it is not all there and Leo reveals himself. After a talk about the money, Leo tells them to "go out for a pass" and throws the football, landing on the hood of the car Mike and Bobby brought.
Episode 3
Edit
Mike attends Laura's funeral. When James and Bobby charge at each other, he joins, but is restrained by Deputy Hawk.
Episode 14
Edit
Mike goes to the Johnson home with Bobby, where Leo is now a wheelchair-bound invalid. They break the heel off of a boot belonging to him and find a micro-cassette.
Episode 15
Edit
Episode 16
Edit
Episode 17
Edit
Episode 18
Edit
Episode 19
Edit
Episode 20
Edit
Episode 21
Edit
Episode 22
Edit
Episode 23
Edit
Episode 24
Edit
Episode 25
Edit
Episode 26
Edit
Episode 27
Edit
Episode 28
Edit
Episode 29
Edit
Twin Peaks: Fire Walk with MeEdit
2017 revival
Edit
He is set to appear in the 2017 revival.