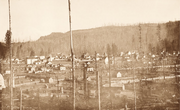 The "Night of the Burning River" was the name given to a freak fire that started in Twin Peaks, Washington on the night of February 24, 1902, claiming the lives of eight citizens.
On the night of February 24, 1902, a logjam in the then-unincorporated town of Twin Peaks caught fire and spread onto the land. The fire destroyed structures and livestock and killed eight citizens until it was finally extinguished by rain eight days after it started.
It is unclear what started the fire, but a contemporary newspaper noted that most attributed the fire to a lightning strike from a passing storm, while some others stated that "columns of fire descended from the sky."[1]
References
Edit