This article's name is conjectural.


The subject of this article does not have an official name.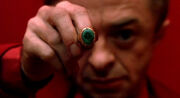 The Owl Cave Ring is a gold ring with a green jade stone engraved with the symbol on the poll of the Owl Cave.
This object is linked to The Man from another Place, saying during the meeting that "With this ring, I thee wed." Its exact effects are unknown but they seem to be linked to BOB's murders.
Known wearers
Edit
The following peoples are known to have been in contact with it at some point.
Robert Jacoby wore a similar ring on his left ring finger but it is difficult to know if it is the same one.
Douglas Milford wore a similar looking gold ring with a green stone on his right little finger when he died which he was wearing before marrying Lana. It is difficult to know if it is intended to be the same one.
In Episode 16, when Cooper interogates MIKE, the spirit mentions a golden circle when recounting his time with BOB. Cooper assumes it to be his own ring borrowed by the Giant. It can be noted that Philip Gerard sells Circle Brand Boots.
In the Meeting Room, the green Formica table touched by The Man From Another Place when talking about the ring has a circular hole that he is looking at. This may indicate that the jade of The Ring is taken from this table.
A supposed effect of the ring is that BOB must kill those who wear it, thus forcing BOB to kill Laura instead of possessing her as wanted.
Another interpretation is that by wedding Man From Another Place, BOB becomes unable to possess that person. Since BOB said he wants to be or to kill Laura, he is now forced to kill her since he can't possess her.
The fact that a wearer loses feeling to his left arm might be because MIKE cut his one off.
Ad blocker interference detected!
Wikia is a free-to-use site that makes money from advertising. We have a modified experience for viewers using ad blockers

Wikia is not accessible if you've made further modifications. Remove the custom ad blocker rule(s) and the page will load as expected.