Not to be confused with Episode 1

"Pilot" (also known as "Northwest Passage") is the premiere episode of Twin Peaks, which aired on ABC on April 8, 1990. It was written by series creators Mark Frost and David Lynch, and directed by Lynch.
The small town of Twin Peaks, Washington is shaken when the body of homecoming queen Laura Palmer washes up on a riverbank, wrapped in plastic. Another girl, Ronette Pulaski, is found wandering in a catatonic state before lapsing into a coma, the victim of protracted physical and sexual abuse. Believing there to be a connection to an unsolved murder a year before, FBI Special Agent Dale Cooper arrives to begin an investigation. Meanwhile, the Palmer family and friends struggle to come to terms with Laura's death.
Synopsis
Edit
This article/section is a stub
This article/section is short and/or lacking information. You can help the Twin Peaks Wiki by expanding it.
Log Lady introduction
Edit
Main article: Log Lady introductions
"Welcome to Twin Peaks. My name is Margaret Lanterman. I live in Twin Peaks. I am known as the Log Lady. There is a story behind that. There are many stories in Twin Peaks. Some of them are sad, some funny. Some of them are stories of madness, of violence. Some are ordinary. Yet they all have about them a sense of mystery - the mystery of life.
"Sometimes, the mystery of death. The mystery of the woods. The woods surrounding Twin Peaks.
"To introduce this story, let me just say it encompasses the all-- it is beyond the "fire", though few would know that meaning. It is a story of many, but begins with one - and I knew her.
"The one leading to the many is Laura Palmer. Laura is the one."
The story begins on Friday, February 24, 1989.
International Pilot
Edit
This alternate version of the pilot possess all previous scenes and more after the Heart Locket being dug up. Also, Laura's mom screams at the end from seeing Bob at the foot of Laura's bed, not from the broken heart necklace being dug up.
Deputy Hawk sketches the picture of Sarah's vision. The One-Armed Man phones Cooper to tell him that Laura's killer is in the hospital.
The One-Armed Man meets Cooper, Harry, and Andy in the morgue where Laura's corpse was. He tells them that the light doesn't work because of the transformer is bad and then recites the Fire Walk With Me chant. He explains that he and the killer were living among the people, above a convenience store. He then tells that his name is Mike and that the killer is Bob. He then answers to Coop that he was in the hospital because he was searching for Bob who sometimes likes to walk among the injured of the species and that he has been searching for him for over a year. He says that he too was touched by the devilish one with a tattoo on his left shoulder but that after seeing the face of god he cut his entire arm off. Two sketches are then shown to him and he recognizes the second one sketched by Hawk as being Bob. He then tells the group that he is in the basement.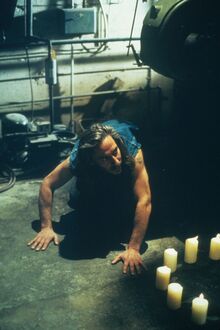 Cooper and Harry confront Killer Bob in the basement while he is doing a ritual with 12 candles in a circle. Bob is disappointed by not seeing Mike, wanting to sing with him again but nonetheless speak to his absent partner, asking if he hears him and recounting a pursuit with someone that he caught with "his death bag". Mike sneaks in the shadow of the door frame, unnoticed by anyone. Bob explains that the letters were going to spell his proper name "Robert", he gleefully admits to murdering Teresa Banks who had the "T" (and by extension Laura) and vows to kill again. Mike immediately bursts in after this promise and shoots Bob to death with his own gun, before suffering a heart attack and dying. The twelve candles put out themselves as Cooper says to "make a wish".
Twenty-five years later, Cooper finds himself in a red room with Laura Palmer and a little man.
Episode credits
Edit
Also Starring
Edit
Featuring
Edit
Uncredited
Edit
Production staff
Edit
Production
Edit
Conception and writing
Edit
David Lynch and Mark Frost pitched the idea to ABC during the time of Writers Guild of America, East strike in 1988 in a ten-minute meeting with the network's drama head, Chad Hoffman, with nothing more than this image and a concept. According to the director, the mystery of who killed Laura Palmer was initially going to be in the foreground, but would recede gradually as viewers got to know the other townsfolk and the problems they were having. Lynch and Frost wanted to mix a police investigation with a soap opera.[1]
ABC liked the idea, and asked Lynch and Frost to write a screenplay for the pilot episode. Frost wrote more verbal characters, like Benjamin Horne, while Lynch was responsible for Agent Dale Cooper. According to the director, "He says a lot of the things I say".[2] Originally, the show was entitled Northwest Passage and set in North Dakota, but the fact that a town called Northwest Passage really exists prompted a revision in the script. They filmed the pilot for $1.8 million[3] with an agreement with ABC that they would shoot an additional "ending" to it so that it could be sold directly to video in Europe as a feature if the TV show was not picked up.[4] However, even though ABC's Bob Iger liked the pilot, he had a tough time persuading the rest of the network brass. Iger suggested showing it to a more diverse, younger group, who liked it, and the executive subsequently convinced ABC to buy seven episodes at $1.1 million apiece.[5] Some executives figured that the show would never get on the air, believing it would meet negative reviews from viewers and critics alike.[3] However, Iger planned to schedule it for the spring. The final showdown occurred during a bi-coastal conference call between Iger and a room full of New York executives; Iger won, and Twin Peaks was on the air.[6]
Ratings and awards
Edit
The two-hour pilot was the highest-rated movie for the 1989–1990 season with a 22 rating and was viewed by 33% of the audience.[7] In Los Angeles, Twin Peaks became the seventh most-watched show of the week earning 29% of viewers, while the most-watched show being Married... With Children which gathered 34% of viewers.[8] The following episode, "Traces to Nowhere" would start with a significant drop in ratings. Various medias such as The New York Times and local radio stations announced that the show had managed to grow a cult following. According to a local radio station, many viewers were "offended with some of the sexual overtones or the eating sequence".[9]
In the 1990 Emmy Awards, the pilot episode was nominated for six awards, including "Outstanding Directing in a Drama Series" for David Lynch, "Outstanding Lead Actor in a Drama Series" for Kyle MacLachlan as Dale Cooper, and "Outstanding Writing in a Drama Series" for Mark Frost and Lynch. The pilot won two awards, Patricia Norris won the "Outstanding Costume Design for a Series" and Duwayne Dunham won the "Outstanding Editing for a Series - Single Camera Production".[10] According to the Internet Movie Database, the pilot received a Peabody Award in 1990.[11]
Critical reception
Edit
Before the two-hour pilot premiered on TV, a screening was held at the Museum of Broadcasting in Hollywood.[12] Media analyst and advertising executive Paul Schulman said, "I don't think it has a chance of succeeding. It is not commercial, it is radically different from what we as viewers are accustomed to seeing, there's no one in the show to root for."[12] Initially, the show's Thursday night time slot was not a good one for soap operas as both Dynasty and its short-lived spin-off The Colbys did poorly.[12] Twin Peaks was also up against the hugely successful sitcom, Cheers. Initially, the show received a positive response from TV critics. Tom Shales, in the Washington Post, wrote, "Twin Peaks disorients you in ways that small-screen productions seldom attempt. It's a pleasurable sensation, the floor dropping out and leaving one dangling."[13] In the New York Times, John J. O'Connor wrote, "Twin Peaks is not a sendup of the form. Mr. Lynch clearly savors the standard ingredients...but then the director adds his own peculiar touches, small passing details that suddenly, and often hilariously, thrust the commonplace out of kilter."[14]
Many critics saw the pilot as "the movie that will change TV" history, according to Diana White from the Boston Globe.[15] Ken Tucker from Entertainment Weekly was overall positive towards the episode, giving it a A+. While liking the story, and calling Lynch's directing beautiful, he said it "not a chance in hell" the show could become a rating hit. Because of its "unsettling" story.[16] David Zurawik from Eugene Register-Guard compared the pilot to the work of Alfred Hitchcock. He further stated that the filming of the episode was as close "as prime-time television" could get "to art".[17] Jen Chaney from The Washington Post called the pilot "one of the most finely crafted series kick-offs in broadcast history".[18]
Home video release
Edit
Due to rights issues, the American pilot (94 minutes) was not released for the United States home video market until 2007. The European pilot (116 min) was released on VHS and laser disc years earlier. Both versions of the pilot are included in the Twin Peaks: Definitive Gold Box Edition DVD set, released in the US on 30 October 2007.[19] An alternate version of the pilot was aired in Europe as a stand-alone television movie. This version is identical to the United States-aired version up until the last several scenes when the killer of Laura Palmer is revealed. Lynch was so pleased with the footage shot for the European ending that he later incorporated some of it into Cooper's dream sequences that aired in subsequent episodes.[20] [21]
Shooting script differences
Edit
During the filming of the scene in which Dale Cooper first examines Laura's body, a malfunctioning fluorescent light above the table flickered constantly. Lynch decided not to replace it since he liked the disconcerting effect that it created and added a few lines to the morgue attendant who did not have scripted lines.[1]

The morgue attendant actor misheard a line and, thinking he was being asked his name, told MacLachlan in character as Cooper his real name (Jim) instead of saying his line. Lynch was reportedly pleased with the lifelike, unscripted moment in dialogue, and kept the mistake in the final cut.[1]

Set decorator Frank Silva was accidentally filmed in a mirror during Sarah Palmer's vision at the end of the pilot. When Lynch saw Silva's face, he liked it so much he kept it in the show, and cast Silva as Killer BOB, the mysterious tormentor of Laura Palmer.[22]

The original title for the pilot movie (and for the series as a whole) was Northwest Passage. It was later changed to Twin Peaks. This title was reused by Germany when assigning titles to the episodes
The script places the events taking place on November 14, while the filmed pilot takes place on February 24
Sheriff Harry S. Truman was instead named Daniel "Dan" Steadman
Catherine was named Katherine
The script has the Pulaski parents named Janek and Maria, but the scene was deleted
Josie Packard was named Giovanna Pasqualini Packard and was of Italian descent instead of Chinese. Indeed, the role was originally written for Italian-American actress Isabella Rossellini, who was David Lynch's partner at the time, and previously appeared in his film Blue Velvet as Dorothy Vallens
Deputy Hawk was not present. In his place was an African-American deputy named Bernie Hill.
Ronette Pulaski was instead named Sharon Pulaski
The boogie dancing highschooler and the screaming girl are unscripted
Flesh World was instead titled Sex Toys: Swingers, Coast-to-Coast
Max Hartman was name Max Hartmen
Julie is the fusion of two unnamed characters from the script and is named after the location manager Julie Duvic (see her nametag)
Dr Shelvy's nametag indicte that her first name is Louise
The state trooper's nametag indicate that he is named G. McMickle, and so is named after property master Greg McMickle
The hotel employee Bob did not exist
Audrey had no lines of dialogue
The trees surrounding Twin Peaks that Cooper becomes fascinated with are Ponderosa Pines, rather than the Douglas Firs in the filmed pilot
The deleted scene "Cooper and Donna Talk About Picnic" is from this episode
The deleted long version of the picnic video is "Picnic"
The deleted scene "Cooper and Truman at Gazebo" is from this episode
The extended scene "Mayor's Speech" is from this episode
The deleted scene "Lucy and Raccoons" is from this episode
When Sheriff Truman and Agent Cooper see Donna and James drive by on the motorcycle, the Sheriff flips on the truck's emergency lights. The scene then cuts to the truck pulling out onto the road in pursuit of the motorcycle and the lights are no longer on. In the next scene, we see the truck on the road and the lights are now on again.
The population of Twin Peaks is 51,201 due to a request from ABC Network. They felt that a town of 5,120 (the original population) was too small and unrelatable. This was one of the few changes that the network made regarding the original pilot - as revealed by Mark Frost in an appearance with the cast in New York City in September 1990.
This episode takes place on Friday, February 24, 1989
Agent Cooper mentions an agent named "Sam" who doesn't seem to be on the ball. Twin Peaks: Fire Walk with Me features Special Agent Sam Stanley, a specialist who investigates the murder of Teresa Banks. However, it is unconfirmed whether the characters are one and the same.
In the final scene, where Sarah Palmer has an upsetting vision, one can briefly make out the reflection of Set Decorator Frank Silva in the mirror behind her. When this was called to Lynch's attention on the set, he was overjoyed and shouted "PERFECT!" This is how Frank Silva was chosen to play the character of Killer BOB.
Due to a contractual obligation, Lynch was forced to shoot an alternate ending to the pilot, which wrapped up the story quickly. This version is referred to as the International Pilot. Released on video in Europe (and a few years later, the US). Much of the footage of the red room was re-edited and used to great effect in Episode 2 in a dream sequence along with some of the hospital scenes of Mike and Bob. The scenes with Cooper, Harry, Lucy, Hawk and Andy were not reused as well as the one of Mike shooting Bob but they are still mentioned by Cooper when recounting his dream in Episode 3. This implies that all new footage of this version is retconned as part of Cooper's dream.
The Pilot episode, with the "European" ending, was exhibited in some countries in cinemas. It played in a number of film festivals including the Seminci.
This two-hour special originally aired as an ABC Sunday Night Movie.
When Twin Peaks was rerun on the Bravo cable network in 1993, David Lynch wrote new introductions for each episode that were performed by Catherine Coulson as The Log Lady.
The pilot features an extended opening title sequence, with more shots of the Packard Mill than usual. All the "Guest Starring," writing, producing, editing and directing credits also run during the main title sequence. The title font is also slightly different than what would be used in the series.
The pilot episode was nominated for eight Emmy Awards in 1990, including best drama, best writing, best directing, best production design, best actor (MacLachlan), best director, and best supporting actress (Laurie and Fenn). Duwayne Dunham won the Emmy for best editing and Patricia Norris won for best costume design for this episode.
In this episode, Julee Cruise sings "Falling" and "The Nightingale", like all the original songs in Twin Peaks they have the music composed by Angelo Badalamenti and the lyrics written by David Lynch. Both songs appeared on Cruise's 1989 album Floating into the Night, which also featured her song "Mysteries of Love," which was recorded for Lynch's 1986 film Blue Velvet.
Rating: 21.7/33; Number 1 for the night, number 5 for the week.
Pete: She's dead. Wrapped in plastic.
Agent Cooper: Who's the lady with the log?
Sheriff Truman: We call her the Log Lady.
Log Lady: Shhhhhhh!
Cooper: Diane, 7:30 am, February twenty-fourth. Entering the town of Twin Peaks. Five miles south of the Canadian border, twelve miles west of the state line. Never seen so many trees in my life. As W.C. Fields would say, I'd rather be here than Philadelphia. It's fifty-four degrees on a slightly overcast day. Weatherman said rain. If you could get paid that kind of money for being wrong sixty percent of the time it'd beat working. Mileage is 79,345, gauge is on reserve, I'm riding on fumes here, I've got to tank up when I get into town. Remind me to tell you how much that is. Lunch was $6.31 at the Lamplighter Inn. That's on Highway Two near Lewis Fork. That was a tuna fish sandwich on whole wheat, a slice of cherry pie and a cup of coffee. Damn good food. Diane, if you ever get up this way, that cherry pie is worth a stop.
Shelly: What kept you, Heidi? Seconds on knockwurst this morning?
Heidi: I couldn't get my car started.
Shelly: Too busy jump-starting the old man, huh?
Norma: I thought the only time you cared about, Bobby, was making time.
Bobby: Norma, I'll see you in my dreams.
Norma: Not if I see you first.
References
Edit
↑ Woodward, Richard B (April 8, 1990). "When Blue Velvet Meets Hill Street Blues". New York Times.

 

↑ 3.0 3.1 "A Slice of Lynch"
↑ Patterson, Troy; Jeff Jensen (Spring 2000). "Our Town". Entertainment Weekly.

 

↑ Fuller, Graham (November 24, 1989). "A Town Like Malice: Maverick Director David Lynch had made a bizarre soap opera for American television". The Independent.

 

↑

Chion, Michel (1995). "David Lynch". British Film Institute. pp. 100.

 

↑ Bickelhaupt, Susan (April 12, 1990). "Twin Peaks vs. Cheers". Boston Globe.

 

↑ DuBrow, Rick (April 10, 1990). "Twin Peaks Bow Garners Lofty Ratings". The Los Angeles Times. http://pqasb.pqarchiver.com/latimes/access/60033146.html?dids=60033146:60033146&FMT=ABS&FMTS=ABS:FT&type=current&date=Apr+10%2C+1990&author=RICK+DU+BROW&pub=Los+Angeles+Times+(pre-1997+Fulltext)&desc=%60Twin+Peaks'+Bow+Garners+Lofty+Ratings&pqatl=google

. Retrieved October 19, 2009

.

 

↑ Gerard, Jeremy (April 26, 1990). "'A 'Soap Noir' Inspires a Cult and Questions". The New York Times. http://www.nytimes.com/1990/04/26/arts/a-soap-noir-inspires-a-cult-and-questions.html

. Retrieved October 19, 2009

.

 

↑ "Advanced Primetime Awards Search". Academy of Television Arts & Science. http://www.emmys.tv/awards/awardsearch.php?action=search_db&selectYearFrom=1949&selectYearTo=2004&textPerson=alan+alda

. Retrieved July 10, 2009

.

 

↑ "Awards for Twin Peaks". Internet Movie Database. http://www.imdb.com/title/tt0278784/awards

. Retrieved October 19, 2009

.

 

↑ Shale, Tom (April 8, 1990). "Troubling, Transcedent Twin Peaks". Washington Post.

 

↑ O'Connor, John J (April 6, 1990). "A Skewed Vision of a Small Town in Twin Peaks". New York Times.

 

↑ White, Diana (April 10, 1990). "It's Not Just a Series, It's a Lifestyle". Boston Globe. http://nl.newsbank.com/nl-search/we/Archives?p_product=BG&p_theme=bg&p_action=search&p_maxdocs=200&p_topdoc=1&p_text_direct-0=0EADDECD23B85990&p_field_direct-0=document_id&p_perpage=10&p_sort=YMD_date:D&s_trackval=GooglePM

. Retrieved October 19, 2009

.

 

↑ Tucker, Ken (April 6, 1990). "Twin Peaks". Entertainment Weekly. http://www.ew.com/ew/article/0,,317112,00.html

. Retrieved October 19, 2009

.

 

↑ Zurawik, David (April 7, 1990). "ABC's new Twin Peaks series dares to be different". Boston Globe. http://news.google.ca/newspapers?id=e3oVAAAAIBAJ&sjid=z-sDAAAAIBAJ&pg=5522,1616620&dq=twin+peaks&hl=en

. Retrieved October 19, 2009

.

 

↑ Chaney, Jen (October 30, 2007). "Taking Another Trip to Twin Peaks". The Washington Post. http://www.washingtonpost.com/wp-srv/artsandliving/movies/features/bonus-points/103007.html

. Retrieved October 19, 2009

.

 

↑ "Twin Peaks: The Definitive Gold Box Edition Debuts on DVD October 30". Movieweb. August 7, 2007. http://www.movieweb.com/dvd/news/18/21718.php

. Retrieved October 19, 2009

.

 

↑ "Twin Piques Who Did It? The Answer Maybe Tonight". The Sacramento Bee. May 23, 1990.

 

↑ Lacey, Gord (August 2, 2007). "Twin Peaks – Press release reveals the Definitive list of extras – With Art". TV Shows on DVD. http://www.tvshowsondvd.com/news/Twin-Peaks/7769

. Retrieved October 19, 2009

.

 

↑ Twin Peaks: The First Season - Pilot audio commentary by editor Duwayne Dunham
Ad blocker interference detected!
Wikia is a free-to-use site that makes money from advertising. We have a modified experience for viewers using ad blockers

Wikia is not accessible if you've made further modifications. Remove the custom ad blocker rule(s) and the page will load as expected.