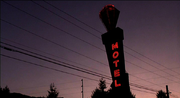 Red Diamond City Motel was located near Deer Meadow, Washington and was used for business by prostitutes.
In 1988, the motel was used for prostitution services by Teresa Banks, Ronette Pulaski, and Laura Palmer. Among the clients that came to the motel was Leland Palmer.[1][2]
Behind the scenes
Edit
The motel was referred to in Twin Peaks: Fire Walk with Me's shooting script as the Blue Diamond City Motel[3] and was filmed at the Mount Si Motel in North Bend, Washington.[4]
References
Edit
Ad blocker interference detected!
Wikia is a free-to-use site that makes money from advertising. We have a modified experience for viewers using ad blockers

Wikia is not accessible if you've made further modifications. Remove the custom ad blocker rule(s) and the page will load as expected.