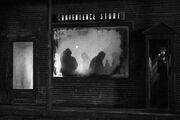 Multiple convenience stores were referenced by spiritual entities that may have been connected.
After a nuclear test on July 16, 1945, woodsmen were seen frequenting a one-floored convenience store with cans piled behind the window. An outside staircase linked to its roof above it.[1]
Above a convenience store
Edit
A spirit called MIKE stated to FBI Special Agent Dale Cooper in a dream that BOB – another spirit – and he lived among the people, above a convenience store.[2]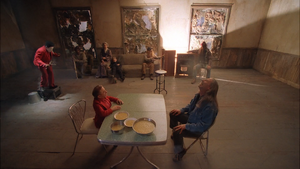 A meeting room was seen by FBI Agent Phillip Jeffries above a convenience store. It could have been either inside the Black Lodge or in the real world. There, many spirits were gathered to "discuss" garmonbozia, a green Formica table missing a circular piece on it and with chrome trimming, a green ring, and electricity. It was linked to the red room and even turned into it and appeared to have three covered windows and some disparate furniture.[3]
Before the meeting, the arm's whooping was heard from the pole numbered six.[4]
When MIKE confronted Leland Palmer in a road traffic, he accused him of having stole "the corn" which he had canned and stored above the store.[3]
References
Edit
Ad blocker interference detected!
Wikia is a free-to-use site that makes money from advertising. We have a modified experience for viewers using ad blockers

Wikia is not accessible if you've made further modifications. Remove the custom ad blocker rule(s) and the page will load as expected.