WARNING!
This article contains spoilers from the 2017 series of Twin Peaks. If you are not up-to-date with the aforementioned television program, it is strongly recommended that you do not read this article.



See this Wiki's spoiler policy
Sarah Palmer (née Novack) is the wife of Leland Palmer and mother of Laura Palmer, the latter of whom was found murdered. Both Sarah and her husband suffer from psychological problems following Laura's death. She also seemingly has some paranormal powers and she is known to, on some occasions predict the future or see people that no one else sees.
Biography
Edit
Early life
Edit
Sarah Novack was a political science major at the University of Washington, where she met Leland Palmer, who she married in 1968.[1] They had one child, a daughter named Laura, born in 1971.
She and Leland organized the Twin Peaks Timber Players in 1974, which annually held three summer performances staged at Twin Peaks High School.[2]
Laura's final days
Edit
Sarah came home from the grocery store one day in mid-February, 1989, a cigarette dangling out of her mouth, which she had Laura take from her. Laura asked for the car, as she had forgotten her books, and almost took the cigarette with her, but Sarah advised that she would never become a smoke if she did not start.[3]
Later, Laura returned home, Sarah discovering that she was lying since she found the books in her room while searching for a sweater Laura borrowed from her. Laura told her that she had been with her boyfriend Bobby. This frustrated Sarah, as she wished for her daughter to always tell her the truth.[3]
In the dining room, Leland came in, loudly declaring that he was hungry. He then taught Sarah and Laura how to introduce themselves in Norwegian.[3]
At dinner the following evening, Leland frightened Laura as he examined her allegedly dirty hands and a heart necklace she wore. Sarah begged Leland to stop. While getting ready for bed that night, Leland began to cry.[4]
During breakfast the next morning, Leland came through the dining room on his way out the door to remind Sarah and Laura that it was Johnny Horne's birthday.[3]
Later, she asked Laura if she had seen her blue sweater, which Laura pointed out that Sarah was wearing. Sarah began to sob, believing that she was having a mental breakdown.[3]
That evening, she was drugged with a glass of milk by her husband. She awoke to see a white horse standing in her bedroom.[4]
At breakfast the next morning, Laura did not eat much and did not wish to speak with her parents. She left the dining room and Leland followed while Sarah lit a cigarette.[4]
Laura then told her mother at dinner that she hated asparagus. Leland was at work late and Laura asked to go to Bobby's to do homework.[3]
In the evening, Laura passed through the living room after coming home from Bobby's, telling her mother goodnight.[4]
Laura's murder
Edit
Sarah stood in her kitchen the next morning, February 24, 1989. She impatiently called for her daughter to wake up, but received no answer. After searching for Laura, she could not find her anywhere in the house. She called the Briggs household and the phone was picked up by Bobby's mother, Betty. Sarah asked if Laura was perhaps with Bobby, but Mrs. Briggs was unsure, as she said Bobby had left to go running before football practice. Sarah also wondered if, perhaps, Laura left with Leland earlier in the morning. Sarah hung up and called the school after Betty agreed that this could be the case. The football coach told her that Bobby had yet to show up for practice and that he had been late every day of the week. Sarah then hung up and called the Great Northern Hotel, where her husband was. She got a hold of him and he said Laura was not with him. She became more worried and said Laura would have left a note if she was with Bobby. Leland then said, "Sheriff Truman," leading her to worry even more. Sarah's suspicion was confirmed when Leland dropped the phone. Their daughter was dead.[5]
Mrs. Palmer became hysterical in the hours following the confirmation of her daughter's death. Doctor Will Hayward sedated her so she could calmly answer questions from Sheriff Truman regarding Laura. She said she had last seen her around 9:00 the night before after coming home from Bobby's house, then Laura went upstairs. Sarah then heard footsteps on the upper floor, which Truman confirmed to be Leland and Deputy Hawk. She then said that her last words to her daughter were "goodnight, sweetheart" and that she heard her phone ring once, but did not know who it was.[5]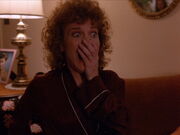 Later in the evening, she was awoken by a vision of a gloved hand digging up half of Laura's heart-shaped necklace.[5]
The next day, she sat on the couch when Laura's best friend, Donna Hayward came to the Palmer home. Donna came and sat next to her and tried to comfort her. Sarah then thought Donna was Laura and hugs her, but had a vision of a man with long, gray hair and began screaming.[6]
The following day, upon hearing her husband crying and screaming with a picture of Laura, Sarah came in to try and stop him, but he said that they must Dance for Laura. They broke the picture frame and as Leland rubbed his blood on the photo, she asked with frustration what was going on in their house.[7]
Sarah attends Laura's funeral the next day, where Leland broke down and jumped onto the casket. Also attending was Sarah's niece,[1] Maddy Ferguson, who was nearly identical in appearance to Laura and had come from Missoula, Montana to attend the funeral.[8]
The next day, she described to Deputy Andy Brennan the man she saw in her vision as the deputy made a sketch of him. Leland then came in and reminded her of the vision she had of the gloved hand digging up Laura's necklace.[9]
A few days later, she talked with Maddy in her living room and asked about Maddy's mother. Maddy began to tell her about a dream she had but was interrupted by Leland, who entered with his hair having turned completely white.[10]
In the evening, Sarah joined Leland, Maddy, and the Haywards to hear Gersten Hayward play the piano and Harriet Hayward recite a poem she wrote about Laura.[10]
Days later, Sarah attended her husband's hearing for the murder of Jacques Renault. Prosecutor Daryl Lodwick proposed, on behalf of the state, that Leland be denied bail due to his mental state and the apparent premeditation of the crime. Sheriff Truman spoke for the defense, which ultimately caused Leland to be released on bail until his trial.[11]
A couple of mornings later, Maddy told Sarah and Leland that she would be returning home to Missoula.[12]
She later crawled down the stairs at her home, calling for Leland, and she once again saw a white horse, this time in the living room.[12]
Sarah called her husband upstairs the next day when Donna and James Hurley came to say goodbye to Maddy, who had already apparently left. She also reminded him to sign them up for the "Glenn Miller Night" at the club.[13]
Aftermath
Edit
Three days after Leland was arrested for Laura and Maddy's murder, then died in custody, Dr. Hayward tried to sedate Sarah before the funeral, but she calmly refused the shot, wishing to "be there" at the funeral. She was comforted by Agent Dale Cooper, who assured her that Leland was not guilty of his actions against Laura, but were the responsibility of an evil spirit called BOB, the gray-haired man Sarah had seen. He also informed her that he had kept her drugged whenever he would commit heinous acts, but came to terms with what he had done just prior to his death.[14]
At the reception, Hank Jennings brought her a plate of food and she talked with Audrey Horne and Eileen Hayward about memories she had of her family.[14]
Twelve days later, Doctor Lawrence Jacoby brought her to the Double R Diner to speak to Major Garland Briggs. With a different voice, she said, "I'm in the Black Lodge with Dale Cooper."[15]
25 years later, Sarah lived alone and spent her nights smoking while watching videos such as mountain lions killing an African buffalo.[16]
Non-canon appearances
Edit
International Pilot
Edit
This section covers only the alternate ending presented in the International Pilot.
In the evening, Sarah is awoken by recalling seeing a man with long, gray hair hiding behind Laura's bed and she screams for Leland.
Between Two WorldsEdit
The canonicity of this feature is ambiguous rather than fully non-canon. If Season 3 aligns with it, it will be assumed canon.
25 years after her daughter's death, Sarah Palmer still lives in Twin Peaks in the same house. She has never remarried, and things in the house are falling apart. She admits to having seen some "in the medical profession," but they have been of little help. When in public, like at the hairdresser or in a grocery store, she puts on a forced smile, though she notes "No one really knows what I'm thinking. Or cares."
Behind the scenes
Edit
Sarah is portrayed by American actress Grace Zabriskie. Later, in 2006, Zabriskie appeared in another mystery film by David Lynch Inland Empire where she played a mysterious neighbor of the main character.
She is set to appear in the 2017 revival. She was seen in a teaser released on May 4, 2017.
Twin Peaks (1990-1991)Edit
Twin Peaks (2017)Edit
References
Edit
Ad blocker interference detected!
Wikia is a free-to-use site that makes money from advertising. We have a modified experience for viewers using ad blockers

Wikia is not accessible if you've made further modifications. Remove the custom ad blocker rule(s) and the page will load as expected.