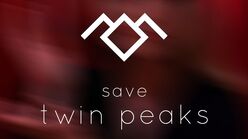 #SaveTwinPeaks
was a viral campaign to ensure
David Lynch's
participation in the
Twin Peaks revival
following his sudden departure due to contract negotations.
The return of Twin Peaks had been greatly anticipated before it was officially announced on October 6, 2014. The initial press release stated the production would consist of nine episodes written by Mark Frost and David Lynch, and directed by David Lynch. The plan was to film all the episodes in the coming year for release in 2016, with a companion book by Mark Frost, titled The Secret History of Twin Peaks, to be released in the fall of 2015.[1]
On March 15, 2015, Lynch reported that there were contract negotiation "complications" impeding the progress of the production.[2] A few weeks later, on April 5, Lynch abruptly announced on social media that he was pulling out of the production, claiming Showtime was not offering enough money for him to produce the scripts.[3]
Fan and cast response to the announcement was swift. On April 7, an official "Save Twin Peaks" social media campaign was launched with a video featuring Sheryl Lee, Dana Ashbrook, Sherilyn Fenn, Mädchen Amick, Peggy Lipton, James Marshall, Kimmy Robertson, Gary Hershberger, Catherine Coulson, Wendy Robie, Al Strobel, and Jennifer Lynch completing the phrase "Twin Peaks without David Lynch is like..." along with text-only statements from Grace Zabriskie and Charlotte Stewart.[4] This was accompanied by an official change.org petition to Showtime.[5]
Behind the scenes, Showtime CEO David Nevins only found out about the contract negotiations turning sour after Lynch's sudden announcement. In response, Nevins and president of programming Gary S. Levine went to Lynch's house and sorted the situation out over coffee and cookies.[6]
On May 15, 2015, Lynch announced he was returning to the project. Showtime further confirmed that the series would go further than the initially announced nine episodes. As a result of the delay, Twin Peaks: The Return was delayed for filming until fall of 2015 with release in May 2017, while The Secret History of Twin Peaks was delayed to the fall of 2016.[7]
At Twin Peaks Festival 2015, the cast confirmed Lynch was aware of the campaign and that it had partially influenced his desire to return to the project.
Twin Peaks premiered on May 21, 2017.
References
Edit
Ad blocker interference detected!
Wikia is a free-to-use site that makes money from advertising. We have a modified experience for viewers using ad blockers

Wikia is not accessible if you've made further modifications. Remove the custom ad blocker rule(s) and the page will load as expected.