September 14
is the 257th day of the year (258th in leap years) in the Gregorian calendar.
1973 – At Haverford College, Dale Cooper is bewildered by the party held at his dormitory and retreats to his room to read texts by a Tibetan monk.[1]
1977 – At the FBI Academy, Cooper investigates his first simulated crime scene, determining that the victim was restrained in a chair and fed French fries, and was murdered by smothering with a pillow.[1]
Behind the scenes
Edit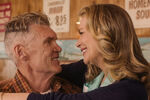 References
Edit
External links
Edit
Ad blocker interference detected!
Wikia is a free-to-use site that makes money from advertising. We have a modified experience for viewers using ad blockers

Wikia is not accessible if you've made further modifications. Remove the custom ad blocker rule(s) and the page will load as expected.