September 22
is the 265th day of the year (266th in leap years) in the Gregorian calendar.
2016 –

[edit]

William Hastings holds an evening faculty evaluation meeting. He leaves at 9:30 p.m. MST and arrives home at 10:20, allegedly giving his secretary Betty a ride home.[2]
Around this date, Hastings and Ruth Davenport visit the Zone and pass a set of coordinates to "the Major." After they do so, the man floats up saying "Cooper, Cooper," and his head disappears. They are attacked by "people" in the Zone who demand to know the name of Hastings' wife. Davenport and the Major are killed, parts of their bodies appearing in Davenport's apartment, while Hastings awakens at home.[3]
Behind the scenes
Edit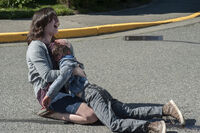 References
Edit
External links
Edit
Ad blocker interference detected!
Wikia is a free-to-use site that makes money from advertising. We have a modified experience for viewers using ad blockers

Wikia is not accessible if you've made further modifications. Remove the custom ad blocker rule(s) and the page will load as expected.