September 24
is the 267th day of the year (268th in leap years) in the Gregorian calendar.
2016 –

[edit]

The doppelganger returns to the motel and confronts Darya about her and Ray's plot to have him killed. He kills Darya and then downloads the specifications of the prison where Ray is being held. Cooper then contacts someone he believes is Phillip Jeffries, but the stranger tells him that he will soon be with BOB after Cooper returns to the Black Lodge tomorrow.[3]
Cooper asks Chantal Hutchens down the hall to dispose of Darya's body and then meet her along with Hutch at a certain place in the next few days.[3]
Behind the scenes
Edit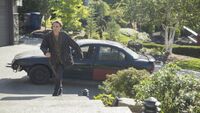 References
Edit
External links
Edit
Ad blocker interference detected!
Wikia is a free-to-use site that makes money from advertising. We have a modified experience for viewers using ad blockers

Wikia is not accessible if you've made further modifications. Remove the custom ad blocker rule(s) and the page will load as expected.