September 28
is the 271st day of the year (272nd in leap years) in the Gregorian calendar.
1805 – Meriwether Lewis travels with a small band to Glastonbury Grove and has a bizarre experience, writing a fragmented dispatch about a "silent man," lights in the sky, the color red, and classical statuary. After returning, he destroys the map given to him by Chief Twisted Hair. His dispatch to President Jefferson leads the president to believe Lewis is delirious.[1]
2016

[edit]

At the prison, Diane has a harrowing conversation with Cooper. Afterward, she emotionally tells Cole that it is emphatically not the man she once knew.[2]
Using powerful blackmail information, Cooper meets with Warden Dwight Murphy and secures his and Ray Monroe's release that night.[2]
Detectives Fusco question Bushnell Mullins at the station about the attempted assassination of Dougie Jones the previous day. They realize that Jones' records do not exist prior to 1997. The desk sergeant reports to them that the piece of flesh from the assassins' gun are a match for Ike "The Spike" Stadtler.[3]
Mullins tells Cooper to take the rest of the day off, and promises that tomorrow they will start looking into what is going on. Cooper is mesmerized by the American flag across the room, then becomes fixated on a womans' heels and a power outlet.[3]
Having found Stadtler's location, the detectives arrest him as he attempts to leave his motel.[3]
Dr. Ben performs a checkup on Dale Cooper. Both he and Janey-E are astonished by "Dougie's" weight loss and excellent health.[4]
While trying to swat a fly, Candie accidentally hits Rodney Mitchum in the head with a remote control.[4]
Night – While watching a news broadcast, the Mitchums learn about Ike The Spike's arrest and recognize Cooper as "Mr. Jackpots" from the casino floor.[4]
Duncan Todd calls Anthony Sinclair to his office and says that Sinclair needs to convince the Mitchums that Dougie is the one who denied their insurance payout.[4]
Behind the scenes
Edit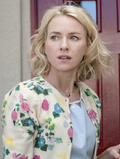 References
Edit
External links
Edit