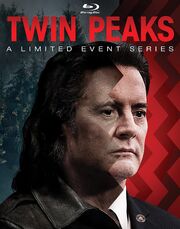 Twin Peaks: A Limited Event Series is a DVD and Blu-ray release of Twin Peaks (2017). It was released by CBS Home Entertainment on December 5, 2017.
The set includes over six hours of bonus material, eighty minutes of which are Blu-ray exclusives.[1]
Contents
Edit
Bonus material
Edit
Impressions: A Journey Behind the Scenes of Twin Peaks – behind-the-scenes short films, directed by Jason S.
Twin Peaks: The Phenomenon – a three-part featurette of cast and crew interviews
(Blu-ray only) Two featurettes on the red room filming, directed by Richard Beymer:
(Blu-ray only) A Very Lovely Dream: One Week in Twin Peaks – a featurette on location filming in Washington, directed by Charles de Lauzirika
Twin Peaks panel at the 2017 San Diego Comic-Con – panel discussion with Damon Lindelof, Dana Ashbrook, Matthew Lillard, Kyle MacLachlan, James Marshall, Everett McGill, Don Murray, Kimmy Robertson, Tim Roth, and Naomi Watts
Rancho Rosa Partnership logos
Behind-the-scenes photo gallery
References
Edit
Ad blocker interference detected!
Wikia is a free-to-use site that makes money from advertising. We have a modified experience for viewers using ad blockers

Wikia is not accessible if you've made further modifications. Remove the custom ad blocker rule(s) and the page will load as expected.