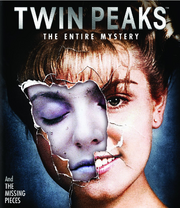 Twin Peaks: The Entire Mystery is the 2014 Blu-ray release of Twin Peaks and Twin Peaks: Fire Walk with Me. Released on July 29, 2014, it is the only release of the series on Blu-ray and the first release of the film on the format.
A version lacking the tenth disc, entitled Twin Peaks: The Original Series, Fire Walk With Me & The Missing Pieces, was released on September 20, 2016.
* Extended Scene
Previous releases not featured
Edit
References
Edit
Ad blocker interference detected!
Wikia is a free-to-use site that makes money from advertising. We have a modified experience for viewers using ad blockers

Wikia is not accessible if you've made further modifications. Remove the custom ad blocker rule(s) and the page will load as expected.