On This Day
September 24
Events
2016 –

[edit]

Mr. C returns to the motel and confronts Darya about her and Ray's plot to have him killed. He kills Darya and then downloads the specifications of the prison where Ray is being held. Cooper then contacts someone he believes is Phillip Jeffries, but the stranger tells him that he will soon be with BOB after Cooper returns to the Black Lodge tomorrow.[2]
Cooper asks Chantal Hutchens down the hall to dispose of Darya's body and then meet her along with Hutch at a certain place in the next few days.[2]
Deaths
Behind the scenes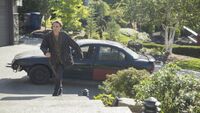 References
Featured Article
Twin Peaks (sometimes referred to as Season 3) is the revival and sequel series to the original 1990-1991 Twin Peaks television series and 1992 film Twin Peaks: Fire Walk with Me.
Read more...
Pollbooth
What was your favorite episode of Twin Peaks (2017)?
Recent Blog Posts
Create blog post
I'm just now learning about the leaked plot synopses (and that I undid a couple edits earlier with information from them).

Yyyyeah, info from those won't be allowed here, just as we've done with early screenings.

Read more >

Diane, I now have three copies of Twin Peaks: Fire Walk with Me, the latest being on VHS. Time to get that VCR up and running again.

Read more >
See more >